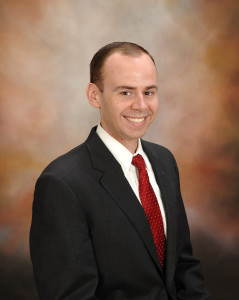 F. Wayne Thompson, Jr.
Experience
F. Wayne Thompson, Jr. is registered to practice law in patent matters before the United States Patent and Trademark Office (USPTO) as a patent agent. Wayne has been preparing and prosecuting patent applications for individual inventors and innovative businesses for many years. He has experience with innovative subject matter spanning a wide variety of technical fields to include mechanical devices, defense technologies, consumer products, pharmaceutical compounds, chemical products, and medical devices. His prosecution experience also includes the preparation of amendments, petitions, appeal briefs, and the filing of continuation, divisional, and continuation-in-part patent applications.
Issued U.S. Patents
The following is a selection of issued patents that were prepared and/or prosecuted by F. Wayne Thompson, Jr.
Utility Patents:
•  US 9,488,446 (pdf)
•  US 9,441,915 (pdf)
•  US 9,410,770 (pdf)
•  US 9,410,565 (pdf)
•  US 9,200,650 (pdf)
•  US 9,109,856 (pdf)
•  US 8,967,033 (pdf)
•  US 8,731,533 (pdf)
•  US 8,677,546 (pdf)
•  US 8,448,374 (pdf)
•  US 8,387,513 (pdf)
Design Patents:
  •  US D776,234 (pdf)
  •  US D775,390 (pdf)
  •  US D773,010 (pdf)
  •  US D707,057 (pdf)
Education
Wayne obtained a Bachelor of Science (B.S.) degree in Biology with a concentration in Cellular Biology and Biotechnology from Georgia Gwinnett College. He has institutional research experience with DNA sequence analysis and phylogenetic research. Wayne has received further training in the use and development of defense technologies.
Wayne passed the rigorous Examination for Registration to Practice in Patent Cases before the USPTO and is currently registered as a U.S. Patent Agent.
Memberships
TriBeta Biological Honors Society.
Asgaard Patent Services, LLC
F. Wayne Thompson, Jr.
Registered U.S. Patent Agent